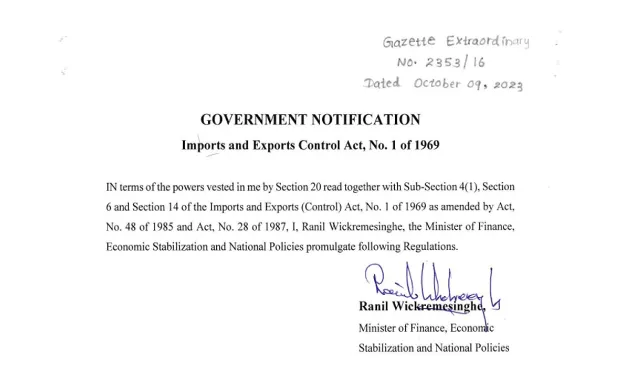 According to a communique issued by President Ranil Wickremesinghe on October 9, Sri Lanka has lifted import controls
on more than 60 commodities.Sanitary ware, tiles, freezers, aluminium bars, fishing boats and yachts were removed from
the import control ban list.Prohibited items imported earlier and held at ports will be released after paying an additional
duty of 15%.
Cars are still banned. Finance Minister Ranjith Siyambalapitiya said Sri Lanka had missed revenue targets partly because
of a ban on car imports.
Sri Lanka reined in imports in 2020 after printing money to cut interest rates and boost growth (targeting potential output
with easy money) tipped the balance, leading to external defaults.
Sri Lanka typically prints money to lower interest rates and control what economic bureaucrats call "non-essential imports,"
which attract the highest tax rates, reduce revenues and trigger more money printing to maintain a fixed policy rate, leading
to a series of policy errors.
Statistics show that in 2022, the bilateral trade volume between China and Sri Lanka was 4.25 billion US dollars, down 27.8%
year-on-year.
At present, China's main imports from Sri Lanka include rubber and its products, black tea, precious stones and coconut oil,
and its main exports include textiles, mechanical and electrical products, building materials, hardware and medicine. Some
famous Chinese products, such as Haier household appliances, Huawei mobile phones and light riding motorcycles, have
entered the Sri Lankan market.
Kaiping City Garden Sanitary Ware Co.,Ltd. is especially professional manufacture faucet and sanitary ware product .We  have
more than 15 years export experience. Now Sri Lanka open the market for us ,we will provide good quality products and
satisify servies for this market.